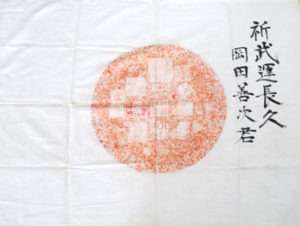 Welcome to Fortunes Of War Militaria! My name is Dr. Michael Bortner. I first became interested in Japanese good luck signed flags more than fifty years ago, when I was in grade school. A passion for flags in general, later developed into a specific interest in finding and then acquiring an authentic, vintage hinomaru yosegaki. As luck would have it, a chance encounter with a dealer at the Orange County Fairgrounds in Southern California, led to that early purchase. My first one-thousand stitch belt or senninbari came a few years later, when I discovered a beautiful tiger stitched example at the old Great Western Show in Pomona, California. I still own both items; each form the center of a collecting passion that burns brightly today.
As my collection of signed flags and senninbari belts developed, so too did my interest in Japanese military send-off culture and customs. After years of study and research, I was led in 2008 to write the book, Imperial Japanese Good Luck Flags and One-Thousand Stitch Belts, (autographed copies available for sale on this website). That 286 page hardcover book along with its numerous illustrations, photos and translations made available for the first time some of the important history and meaning behind the development, fabrication, and presentation of the good luck flag and one-thousand stitch belt.

This website is an outgrowth of the expanding interest in the continued study of World War Two era military history and of its material culture. More specifically, we present Japanese good luck signed flags, one-thousand stitch/good luck articles, off-to-war banners and other items that pertained to military send-off celebrations.
I am currently a member of the following research or collector based organizations: The Company of Military Historians, The North American Vexillological Association, The Ohio Valley Military Society and the MAX Certified Dealer Program.