Imperial Japanese
Good Luck Flags and One-Thousand Stitch Belts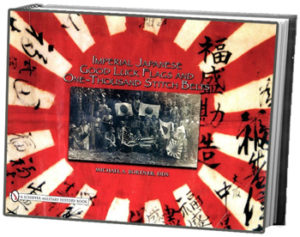 This is the first book of its kind that focuses solely on Imperial Japanese Good Luck Flags and One-Thousand Stitch Belts. It answers many of the questions that both novice and experienced collectors have with regard to hinomaru yosegaki and senninbari. Through an extensive use of color photographs and text, much of it translated, this 286 page reference provides illustrations of common artifacts as well as some of the rarest. Gathered from around the world, many of the examples provided have been identified to their soldier-owners and come with fascinating and often poignant stories. Vintage photographs, postcards, advertisements and first hand accounts, bring both subjects into full detail.
Size: 12" x 9", 286 pp., Hard Cover Edition
Over 650 Color and Black and White Images
List price $79.95 + Domestic and International Shipping.
Contact the author here for your autographed and/or personalized copy.
The Author:
Dr. Michael A. Bortner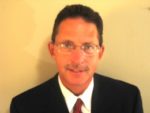 Michael Bortner has been a collector of Imperial Japanese Good Luck Flags and One Thousand Stitch Belts for more than fifty years. His desire to write a book developed out of his curiosity to find historical and cultural information on this subject. The contents contained herein are based upon personal interviews with American and Japanese veterans, obscure primary sources, museum exhibits and discussions with other collectors. Drawing upon his extensive collection of Good Luck Flags and One Thousand Stitch items as well as those of fellow collectors, Mike has assembled the first book of its kind in English solely on this subject.
The author earned his B.A. Degree in History from the University of California, Irvine and his M.A. Degree in Anthropology from the California State University, Hayward. He earned his Doctor of Dental Surgery from Georgetown University, Washington, D.C. He lives in the San Francisco Bay Area. He is a member of The Company of Military Historians, The North American Vexillological Association, Textile Society of America, The American Historical Association, The Society For Military History, The Ohio Valley Military Society and the MAX Certified Dealer Program.
To purchase an autographed and/or personalized copy of the book, please contact us here.
"The quality of your book is superb! Your information, photos, descriptions, and detailed research are simply stated, "The Best!" I especially want to tell you that your writing is great! The style is informative and fluid. Many of my collector books on firearms, swords, history and militaria are very informative, but dry. I would also like to commend you and your book designer/publisher for the beauty of this book. It is colorful and well designed. Please keep me on the mailing list for your next book..."
John Adams-Graf
The Military Trader
"With this book, Dr. Bortner has made a significant contribution to the understanding and collecting of Imperial Japanese relics. Imperial Japanese Good Luck Flags and One-Thousand Stitch Belts is the first book of its kind that focuses solely on these commonly encountered Pacific Theater relics. He has assembled a book that answers many of the questions that both novice and experienced collectors have had with regard to yosegaki hinomaru and senninbari. Through an extensive use of color photographs, the book provides illustrations of common artifacts as well as some of the rarest. Not only does the narrative explain the significance of the items, it makes recommendations on care, storage and display. A quality book."
Jim Dawson
Author of Swords of Imperial Japan 1868-1945 Cyclopedia Edition
"Thank you for the opportunity to review your new book Imperial Japanese Good Luck Flags and One-Thousand Stitch Belts. I opened the book on Friday and could not put it down for the entire weekend. This book is everything a collector book should be. The large format, full color presentation is a joy to read, and the chapter organization makes finding any topic easy. But I think more important is the evidence of thorough, scholarly research. I doubt that there will ever be a better book on the subject unless it is another edition by Michael Bortner. What a great service to the historian and collector."
World War 2 Magazine, October/November 2008
Lush coffee-table book offers hundreds of awesome photos plus detailed explications.
Bob Coleman
Historian, Collector and Forum Moderator
Tuesday, I received in the mail my copy of Dr. Michael Bortner's Book, "Imperial Japanese Good Luck Flags and One Thousand Stitch Belts". The amount of time and research that was put in to this reference is amazing. The book not only deals with the item but also its place in Japanese history and culture, their construction and purpose. All of this is backed up with fantastic images, historical perspective and period photographs. I would highly recommend this work for the library of any collector or student of World War II artifacts. Putting such a work together is done for the love of the task, not for profit. Such works normally only make a profit for the publisher and nothing for the author. Mike, a job well done!
John Egger
Marine, and Authority on Japanese Militaria
In collecting there is an old saying, "Buy the book before you buy the coin." Never is this more applicable than in Mike Bortner's new book on Japanese Good Luck Flags. Whether you are an arm-chair history buff or you are just beginning to collect good luck flags, Mike's book is where your collection should start. From the front cover to the last page there are great period photographs and examples of flags that we all wish we had in our collections. This book will provide a whole new perspective about these flags, and the photographs of the soldiers with them. The wealth of information about these flags gives new insight into what we thought we knew. Buy the book...then start collecting. It will make your search alot more fun.
Doss H. White
Editor of Banzai
This great 285 page book covers an area in Japanese militaria collecting that has never been explored in print. It adds a new dimension to Japanese militaria collecting and is both comprehensive and well-organized. The book explains the history of many different categories of signed flags and contains photos of a large number of different flags with their translations. All of the flag categories are explained and photographs of flags with their translations are covered. One chapter covers flag authentication, a great reference since the book is sure to drive the prices of authentic flags sky high and tempt the fakers to try their hand. There are several chapters on the history and photos of the rarely seen today thousand stitch belts and vests. Also described are thousand stitch belt reproductions, an invaluable guide to the novice collector. The final chapter (Chapter 28) describes proper care, display, and storage of the flags and belts. No Japanese militaria collector's library is complete without it.
Takehito Jimbo
Japanese militaria collector and historian
As collectors and students of Japanese militaria, never before have we been shown such a display of variety and comprehensive study of Yosegaki flags and Senninbaris as do this magnificent new book authored by Dr. Michael Bortner. These highly personal items of the Imperial Japanese soldiers are each a history unto itself, a view into the life and times of the soldiers who took these items with him to battle, to know the affection and cheers from his family, his relatives, his comrades in arms, his personal friends, and the general citizens who supported the "hero soldier" in times of war. For many years, much of these "recordings" of human emotions from a bygone era have been folded away in drawers and closets, but here, with the tireless efforts of the author, they come alive once again in full color and regalia to speak again to the beholder of these fragments of history. A huge applause to Mike Bortner!
Bob Chatt
Militaria Dealer and Promoter of the West Coast Historical and Militaria Collector's Show
Received my copy today. Mike had shown me the galley proof at SOS, and I was impressed then. But to see it finished is even more amazing. This is one of those must have books. Great job Mike.
Ron Werneth
Japanese Naval Aviation Historian, Collector, and Author of the Book, Beyond Pearl Harbor: The Untold Stories of Japan's Naval Airmen.
I concur, Dr. Mike's book is a "must" read for any serious WW II IJA/IJN history buff/collector, and anyone interested in the Pacific War. Superb layout. Beautiful photos. Excellent research. Enough said.
John Lofgren
Long Time Resident of Japan and Antique/Militaria Collector-Dealer
Not often does a book hit the market that explores what are essentially unexplored topics. However, Dr. Michael Bortner's book, Imperial Japanese Good Luck Flags and One Thousand Stitch Belts does just that. Even long time collectors and dealers will thumb through the pages with eyes wide and mouths agape! Anyone interested in World War Two militaria and the War in the Pacific needs to own it. For collectors of Japanese soldier's flags, senninbari, and senninriki items, there is no bigger bang for the buck or yen!
I received my book today, and not to be melodramatic about it, but glancing through it gave me goosebumps. The amount of information and the top notch layout of the book are very impressive. Great reference hardly describes this masterpiece.
Just received your fabulous book. Read it in its entirety immediately. So well organized. Photos and layout are without peer. It was a joy to finally see something other than firearms and edge weapons. Thank you for such a tremendous effort. Truely a reference document for the ages. Dr. Sturt C. Blank
Military Archive Research, UK
"There is an excellent structure / organisation to the book and it divides the subjects into manageable sections. It is highly detailed and has excellent photography throughout. It combines period photos with modern photos taken of these items and has superb text." Pritzker Museum and Military Library
https://www.pritzkermilitary.org/
"Contains information on Good Luck flags (yosegaki hinomara) and One Thousand Stitch belts (senniinbari-haramaki) providing new and valuable insights. Background information providing historical context gives the reader an appreciation for Japanese culture. It also covers non-vintage as well as reproduction items."
History and Evolution of the Japanese Written Language
Good Luck Flags – History and Meaning
Good Luck Flags – Construction and Sizes
Good Luck Flags – Standard Type
Good Luck Flags – Characters that Fill the Entire White Background
Good Luck Flags – Shrine or Temple Seals
Good Luck Flags – Kanji Across the Red Center
Good Luck Flags – Artwork
Good Luck Flags – Battle Records, Maps, Unit Flags
Good Luck Flags – Battle Damage
Good Luck Flags – Military Intelligence Stamps and Capture Papers
Good Luck Flags – Blood Oath Flags and Blood Flags
Good Luck Flags – Navy and Naval Related Flags
Good Luck Flags – Amulets of Protection
Riki or Chikara Flags
Japanese Signed Battle Flags
Miscellaneous Signed Flags
Souvenir of Service Flags
Good Luck Flags – Translation and Authentication
One Thousand Stitch Belts (Senninbari) – History and Meaning
One Thousand Stitch Belts (Senninbari) – Sizes and Construction
One Thousand Stitch Belts (Senninbari) – Coins, Amulets, Charms and Shrine/Temple Seals
One Thousand Stitch Belts (Senninbari) – With Messages
One Thousand Stitch Belts (Senninbari) – Artwork
One Thousand Stitch Belts (Senninbari) – Colors
Miscellaneous Senninbari and Good Luck Items
One Thousand Stitch Belts (Senninbari) – Reproductions
Good Luck Flags, One Thousand Stitch Belts (Senninbari) –
Proper Care, Display, and Storage of Your Collection
with Glossary, Bibliography and Resources
Size: 12" x 9", 286 pp., Hard Cover Edition
Over 650 Color and Black and White Images