A Second Book by Michael A. Bortner
Battle Carried: Imperial Japanese Tiger Art Good Luck Flags of World War Two
Selected as a Winner by the 2021 International Impact Book Awards in 2 categories: Collectibles and Antiques and Education and Academic.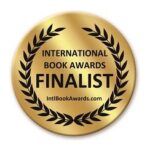 Selected as a Finalist by the 2021 International Book Awards in the category of History-Military.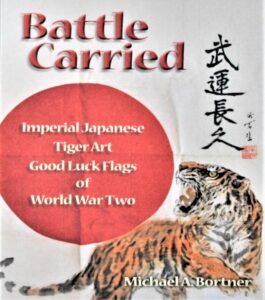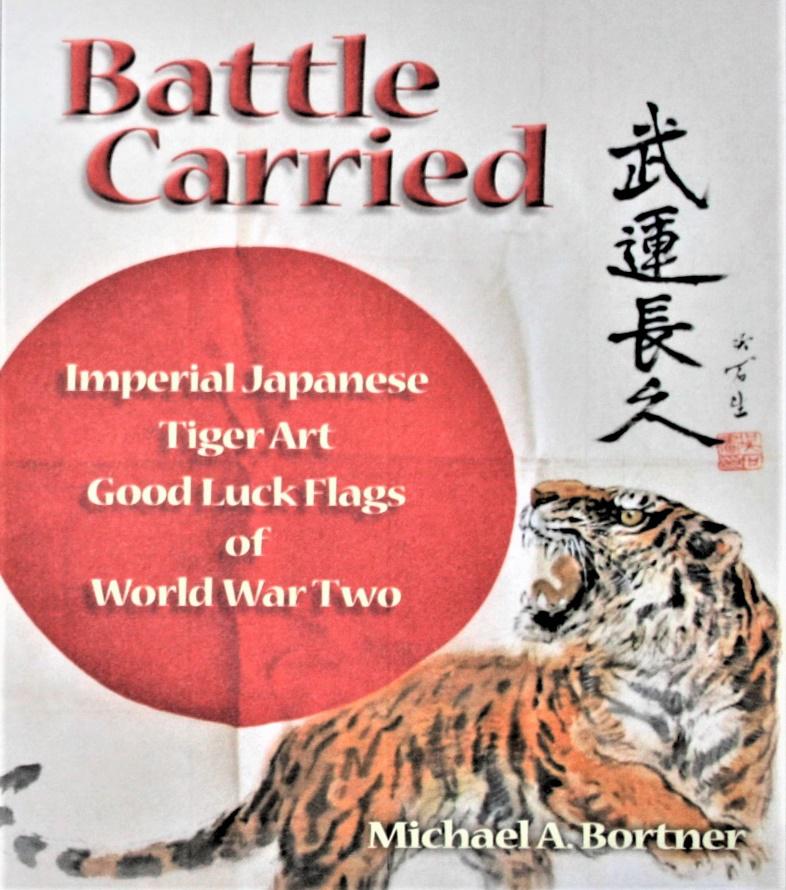 This book is the second in a series that examines the subject of World War Two era Imperial Japanese good luck signed flags.
While the premier volume introduced the reader to not only hinomaru yosegaki (good luck flags), and senninbari (one-thousand stitch amulets), this publication covers the specific history, meaning, and cultural context of tiger imagery as it was used to decorate good luck flags. Through an extensive use of color images; woodblock prints; and rare vintage photographs, the book provides illustrations along with their English translations of some of the rarest, and most highly sought specimens of tiger art flags. From the aspect of human interest, numerous examples have been identified to their soldier, sailor, or airmen owners. As an iconic image, practically no other animal served to inspire, motivate, or galvanize the World War Two era Japanese populace behind the Asian ideal of what it meant to be a warrior, than the tiger.

Size: 8.5" x 11", 196 pp., Hard Cover Edition
Over 210 Color and Black and White Images
List price for Standard Editions $69.99 + Domestic and International Shipping.
Contact the author here for your autographed and/or personalized copy.
The Author:
Michael A. Bortner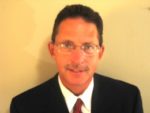 Michael Bortner has been a collector of imperial Japanese good luck flags and one-thousand stitch belts for more than fifty years. His initial desire to write a book developed from his curiosity to find historical and cultural information on the subject. That interest led to the successful release of his first volume, Imperial Japanese Good Luck Flags and One-Thousand Stitch Belts. As his passion for and exposure to the subject of good luck flags grew, Mike began to research and write his second book, Battle Carried: Imperial Japanese Tiger Art Good Luck Flags of World War Two.  This award winning book was released in 2021 and focuses solely on the iconographic tiger art, sometimes found painted on hinomaru yosegaki. Drawing upon an extensive collection of tiger-painted good luck flags and amulets, gathered from fellow collectors worldwide, the author has assembled the first work of its kind in English on the subject.
The author earned his B.A. Degree in History from the University of California, Irvine and his M.A. Degree in Anthropology from the California State University, Hayward. He earned his Doctor of Dental Surgery from Georgetown University, Washington, D.C. He lives in the San Francisco Bay area. He is a member of The Company of Military Historians, The North American Vexillological Association, Textile Society of America, The American Historical Association, The Society For Military History, The Ohio Valley Military Society and the MAX Certified Dealer Program.
To purchase an autographed and/or personalized copy of the book, please contact us here.
Ron Werneth
Author of 'The Fall of the Japanese Empire' and 'Beyond Pearl Harbor'
"Never before has the significance of the tiger and the role that it played within the psyches of the Japanese military men of the Pacific War been studied. An essential read..."
Gregory A. Babich
Co-Author of 'Imperial Japanese Grenade Rifles and Launchers'
"Dr. Bortner's broad and thorough examination and well-organized presentation places the artifacts in context, allowing the reader to better understand them and the warriors who carried them… This treatise advances our understanding of Japanese history, culture, language, textiles and art."
John Egger
Japanese Headgear Authority and Long Time Collector
"With his newest book, 'Battle Carried: Imperial Japanese Tiger Art Good Luck Flags of World War Two', Michael Bortner presents new information, never before assembled in one place… Dr. Bortner's books are critical to understanding and/or collecting hinomaru yosegaki flags and every collector should educate themselves with them, before they start their search. …His research will aid enthusiasts in other areas of Japanese military collectibles as well as those in the fields of textiles, religion and Asian art studies. With his books, the next time you see a hinomaru yosegaki flag you won't have to ask what it is. You'll know." Marc W.
"I've always considered myself a connoisseur of fine books, and your new book certainly, at the very least, rates in that very fine book category. The subject matter certainly fills a need in the collectors' community. The graphics are fantastic. It's a book I will certainly read cover to cover and I'll circle back once I've done so.....Very glad I opted for the Deluxe Edition." Lee K. Pennington, PhD
Associate Professor of History, The United States Naval Academy, Annapolis and Author of 'Casualties of History: Wounded Japanese Servicemen and the Second World War'
"Thank you for examining the texture of the Pacific War in fine detail. Our knowledge of the culture of Japan's war is stronger thanks to you!" With Admiration John Adams-Graf
Editor-in-Chief, The Military Trader
For more than 50 years, author and collector, Dr. Michael A. Bortner, has collected Imperial Japanese good luck flags and one-thousand stitch belts. In fact, his book on the subject, Imperial Japanese Good Luck Flags and One-Thousand Stitch Belts (Schiffer: 2008), revealed to collectors, dealers, and museums, the nuances that make these textiles so desirable and important testaments to history. Battle Carried is a volume written for the serious militaria collector or student of Imperial Japan. It expands, in depth, an aspect only touched upon in the author's previous work, Imperial Japanese Good Luck Flags and One Thousand Stitch Belts. In addition to collectors of Imperial Japanese militaria, aficionados, historians, artists, and scholars of Japanese culture will embrace Battle Carried. It has become the principal study of Japan's tiger imagery used to inspire legions of military personnel during the first half of the 20th century. Jeremiah Rood
Foreward-Clarion Reviews
"Flush with beautiful images...There is a particular haunting beauty to these captured tiger images, particularly when they're considered against the weight of history. Scholarship grounds the text..." Literary Titan Reviews
@username
"...Detail is what sells the human aspect of this book. Battle Carried is a highly informative piece of literature that will serve to educate and entertain anyone that has an interest in Japanese culture..." Dan King
Author, Historian and Film Consultant
"Bravo! Once again, great work on the book. The way you delve into Japanese religion, culture and the various styles of writing kanji was wonderful." Craig A.
@username
"Received your book today. What an incredible work of art! Just beginning to leaf through, but first impressions: both beautiful and thorough. I can't begin to imagine the effort it took...!" Paul G.
Japanese Good Luck Flag Aficionado
"I have been reading your newest book as time permits, and I have to say, 'I Love it!' Your depth of knowledge is amazing...Thanks for all you do in our beloved hobby!" Chris L.
Collector
"I can see already that the quality of the printing and photographs is top shelf. I am very glad I purchased the limited edition book." Paul N.
Collector
"I received the books yesterday in excellent condition. To say the least they are excellent and vastly superior to those mostly seen. Fantastic addition to my library..." Kazutaka Nishiura
Member of the Japanese Vexillological Association
"Your beautiful book 'Battle Carried' has arrived. I was surprised at the understanding of our culture that is comparable to Japanese people. I was also impressed with the unique perspective of the 'tiger' theme." Richard D. Templeton
Amazon Book Reviewer
"Dr. Bortner, obviously a master of his subject, exposits in rich detail every aspect of each of the...flags borne by the Empire's military that are included in the book. His comprehensive verbiage includes translation of the names (written in kanji) of those who signed the flags, as well as what is indicated by the tiger's appearance and the admonitions and slogans on the flags. This slightly-less-than-200 page book is a must for any WWII, art, textile, or Japan historian..."
Foreward
Preface
Introduction
Chapter 1 — Tigers and Japan's Ancient People
Chapter 2 —  The Chinese Painting Style and Its Influences Upon Japanese Art
Chapter 3 — Tiger Zen
Chapter 4 — Epic Tiger Legends and Battles
Chapter 5 — Good Luck Flags- Bobbing Head Tigers
Chapter 6 — Good Luck Flags- Tiger Head Portraits
Chapter 7 — Good Luck Flags- Tigers in Profile
Chapter 8 — Good Luck Flags- Tigers Descending
Chapter 9 — Good Luck Flags-Tigers Standing on Rock Ledges
Chapter 10 — Good Luck Flags- Tigers on the Attack
Chapter 11 — Good Luck Flags- The Empire's Victorious Tigers
Chapter 12 — Good Luck Flags- Tiger Associated Flags
Chapter 13 — Tiger and Miscellaneous Good Luck Cloth Amulets

Glossary
Bibliography
Bibliography  —  Conservation and Preservation of Textiles
Appendix
Size: 8.5" x 11", 196 pp., Hard Cover Edition
Over 210 Color and Black and White Images