Golden-Yellow silk 1000 Stitch Belt With Battle Staining On The Tie Strings. Inner Charm Pouch Contains Metal Deity Charm/Talisman "SOLD"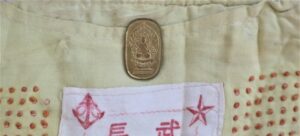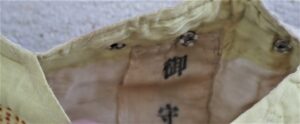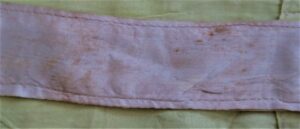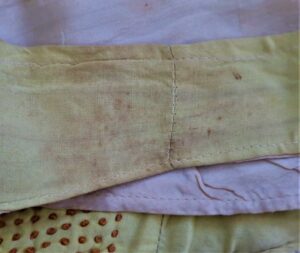 This yellow and white silk 1000 Stitch Belt measures approximately 7.5" high at its widest section X 77." long. That measurement includes the tie strings.  This senninbari is a bit salty, with battle stains, primarily on the ties strings (see images). It appears as though the belt may have been cleaned to remove the stains, although they are still present. This 1000 stitch belt is made from golden-yellow silk, with red cotton knots; the tie strings on the reverse, are backed with white silk.  Its gold-yellow color would be considered a bit rare for senninbari. In the center-front you will notice a 2.5″ high X 3.5″ long white silk patch/decoration. Printed red characters on the front say Buun Chokyu or "May Your Military Fortunes Be Long Lasting". In each corner of the patch are alternating red Imperial Army stars and Imperial Navy Anchors. The body of the belt was padded on the reverse with heavy cotton/felt to keep the wearer's abdomen warm, providing good health. There is a center pouch that contains a small gold colored, metal good luck charm.  The kanji on the outside of the pouch say, omamori or "item of protection".
This is one of the higher end styles of 1000 stitch belts and displays colorful gold-yellow silk and bright red knotted stitches.  A bit worn and salty, but a great piece!
Contact me to buy this item: