Today, I would like to introduce you to Japanese samurai sword collector, Chuck Scarl. I first met Chuck about ten years ago at one of the two large collector's shows in the United States. At the time, he was interested in unusual Japanese good luck signed flags and senninbari belts with custom painted art on them. A few years later, he branched out into collecting samurai swords; this seems to be where his primary focus is right now. Chuck is pretty typical of the collectors that I know today: he has a passion for his areas of interest and spends quite a bit of time in order to learn the history behind his subjects. He shares whatever he knows with others in order to benefit our hobby. In short, Chuck is just a plain "nice guy". He can be reached at ibuyww2japanese@hotmail.com
FOWM: Hello Chuck. It was nice to see you at the MAX Show recently and to touch base again on the subject of Japanese World War Two militaria. Thank you for speaking with me here.
CS: Great seeing you at the max and thanks for having me.
FOWM: When you and I first met, you were very interested in collecting Japanese good luck flags and senninbari belts. How and when did you become interested in collecting Japanese militaria? Were any of your relatives in the war?
CS: I credit my mother with getting me started collecting militaria. As a child, my mother would find and still does find, military items at estate sales and yard sales. Some of the first items that I acquired were Japanese meatball flags and bayonets. My grandfather and my great uncle both served in the Pacific during WW2. I have some memories of getting to look at my grandfather's M-1 service rifle but I don't recall seeing any Japanese items that he brought back from the war.
FOWM: I can relate to that too. My mother used to attend estate sales and yard sales when I was a kid. Sometimes she would surprise me after school by giving me some terrific items. I remember that one time she found an album that contained patriotic envelopes from the Civil War. The collection was divided into Union covers and Confederate ones; I think that she paid $20.00 for the entire thing. If memory serves me, that album contains about 150 different covers. On another day, she also presented me with a leather-bound album that contained carte de visites of Union generals and political notables, nearly all were autographed!
FOWM: What were some of your first Japanese World War Two artifacts or collectibles?
CS: Some of the first items that I remember were a plain old Japanese meatball flag and a box of German youth pins that my mother found for me.
FOWM: Do you remember how much you paid for those items? Or Were they given to you?
CS: I think that my mother paid a whole $1 for the lot; she has some great luck finding deals, even today! She also paid $5 bucks, at one sale, for a U.S. World War Two fighting knife and wouldn't let me give her more than $5 for it. I have to admit that she did get a great Mother's Day gift from me that year…!
FOWM: In your experience, why do you think that people collect Japanese militaria?
CS: At first, there is more of an affordability of collecting Japanese items compared with German war souvenirs. The problem, however, is that prices soon soar on particular items, the deeper you get into the hobby.
FOWM: I think that you are correct, Chuck. Someone new to the hobby of collecting Japanese militaria can find uniforms, flags, patches, shoulder boards, and basic items of field gear at very reasonable prices. Even bayonets, canteens and map cases can be very affordable for a new collector. I know that we often comment that collector shows and good old-fashioned yard sales and flea markets continue to be great places to find items as well, often at reasonable prices. The nice thing about collector shows is that they bring many people, with similar interests, together under one roof. By attending those events, collectors both new and old, are able to build relationships with dealers, mentors and others in their specific area of interest.
FOWM: What are your major areas of Japanese militaria collecting today?
CS: My major area of collecting currently is Japanese nihonto (sword). I collect mainly Shinto (new sword era) and koto (old sword era) swords from certain schools of sword making. My favorite school being the Mishina school from the Shinto era. They are known for a temper line called Sudare-ba (bamboo forest). The first time that I looked at that temper line, it stopped me in my tracks. The level of skill required to pull off this temper line is tremendous. Only the earlier, more talented smiths of this school, could master this temper style.
FOWM: What was it about those items that attracted you to collecting them?
CS: The high level of craftsmanship and engineering of the Japanese sword attracted me. It's amazing that sword smiths from 600 years ago could produce such perfect swords without modern tools.
FOWM: Is there any particular advice that you would share with someone wanting to collect those? Is sword collecting the "tough study" that I have heard? What are the best ways for a new collector to break into sword collecting? Do you recommend any books, study clubs, etc.?
CS: The best advice that I would give to someone who has a new interest in swords is twofold: First- spend your first $1000 on books and Second- look at as many swords, "in hand" as you can pick up. There is no substitute for "in hand" study of swords. Just as importantly, however, is that new collectors need to become familiar with and understand basic sword terminology. Of course, the terminology is in Japanese and it takes a while to learn the hundreds of terms. At the same time, collecting Japanese swords is a very hard study and requires a lot of dedication. I spend countless hours studying sword books and blades. The key for new sword collectors is to find a study group or mentor. I was very lucky early on to find a mentor to help me. Here are some very useful starter books, THE CONNOISSEUR'S BOOK OF JAPANESE SWORDS by KOKAN NAGAYAMA and FACTS AND FUNDAMENTALS OF JAPANESE SWORDS: A COLLECTOR'S GUIDE by Paul Martin.
FOWM: Tell us a little bit about your favorite swords, flags and/or senninbari? Tell us about the "one that got away"?
CS: My favorite sword is a Shinto era sword made by Kanemichi of the Mishina school with Sudare-ba temperline. My favorite flag is one of the first good luck flags that I found. It has a very nice poem on it along with hand painted dragon, falling cherry blossoms, and a drawing of the soldier, sailor or airman's home. The sword that got away from me was from a recent encounter. It was a Gassan Sadakatsu in a presentation box from the Japanese emperor. It was sold to another buyer as I counted out my money to see if I had enough to buy it! The Japanese have a saying, "swords find their owner". My favorite swords have all found me when I least expected it.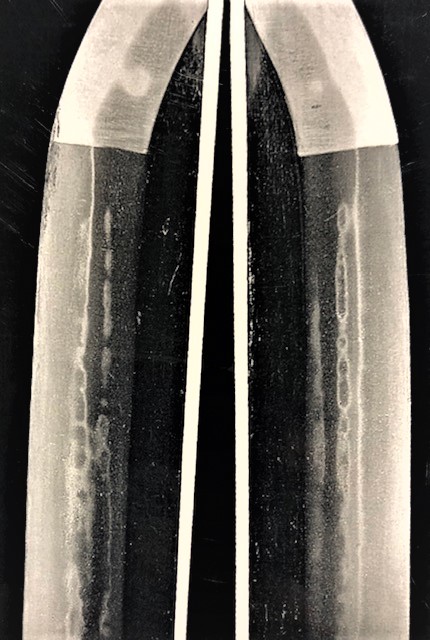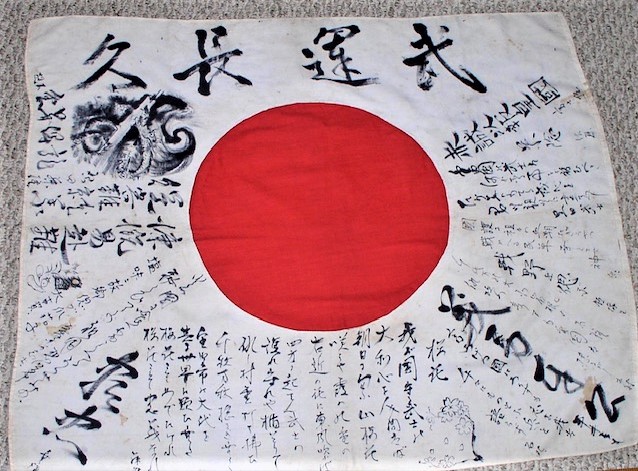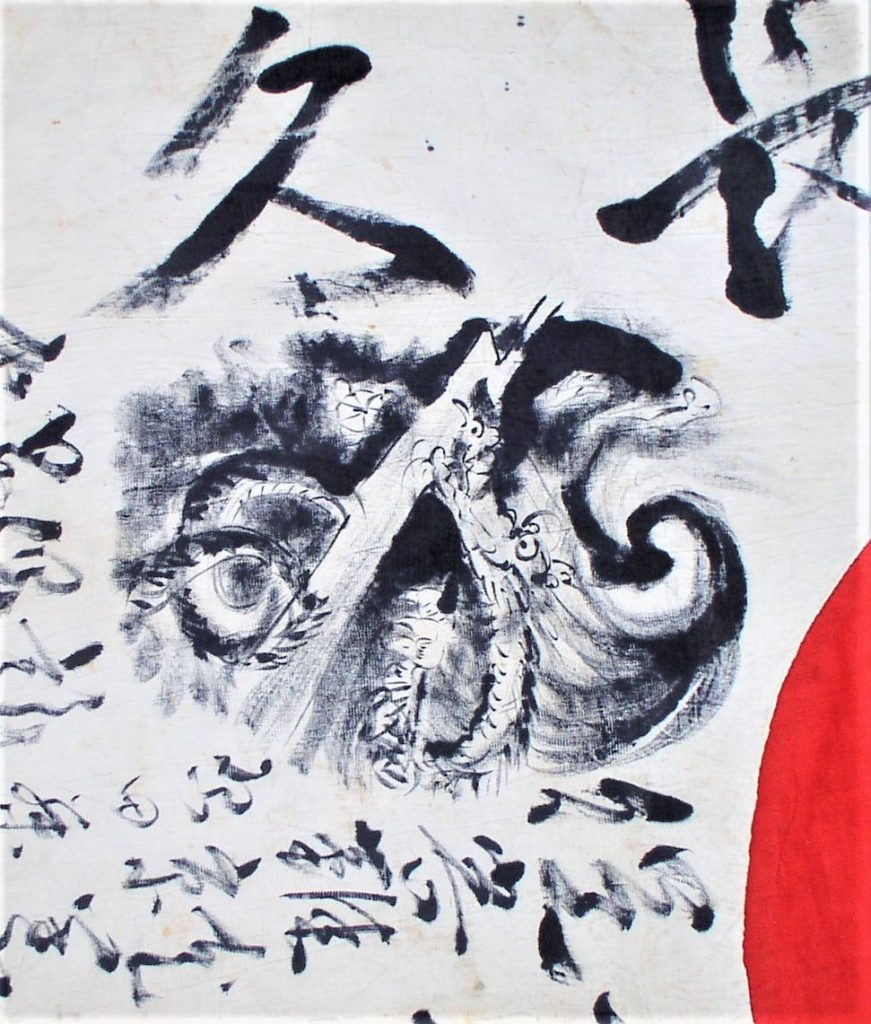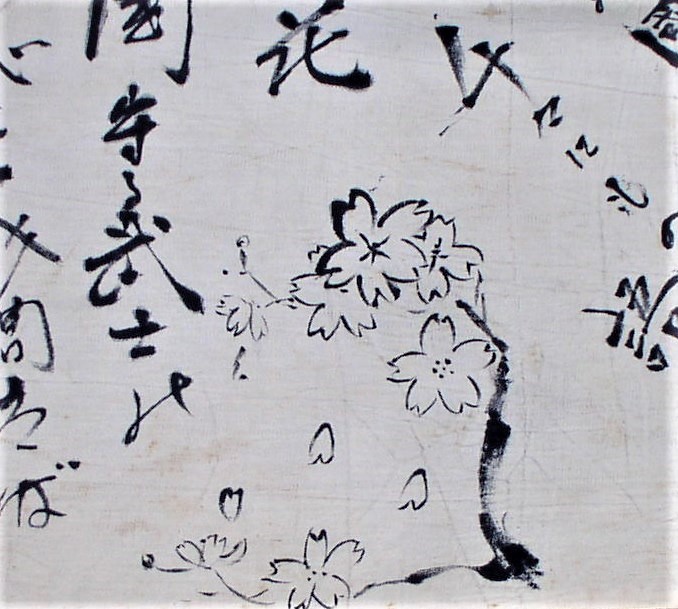 FOWM: What do you consider to be the most fun aspect of the hobby?
CS: That's easy: bullshitting with other collectors about swords and flags for countless hours!
FOWM: Do you encounter many reproductions in your area of interest? If so, are they difficult to identify?
CS: The reproductions of Japanese swords are numerous; a majority of them can be easily identified but they are getting better by the year. The biggest problem with Japanese swords is finding forging flaws on real blades. Some of these flaws can make blades worthless and they may be hard to spot.
FOWM: What advice would you give a new collector today and why?
CS: Buy what you love and you will never be disappointed; but remember, it may take plenty of study time to find out what you love.
FOWM: I imagine that samurai swords can be quite expensive. Is it still possible for a novice collector to break into that aspect of the hobby?
CS: High end samurai swords can be very expensive, with some ranging up to a couple hundred thousand dollars in price. Novice collectors can still find some very nice beginner pieces at moderate prices.
FOWM: Do you see any challenges to the collector of Japanese militaria today?
CS: The main challenge today is to encourage new, younger collectors to enter the hobby.
FOWM: Thank you Chuck for taking the time to share with us some of your experiences and for discussing with us some of your perspectives on the hobby today.
CS: Thanks for having me!